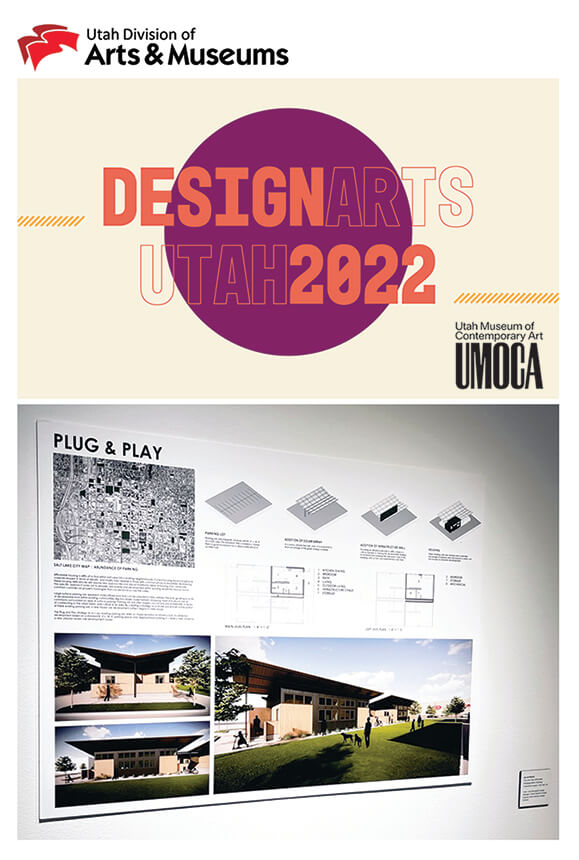 Utah Division of Arts & Museums DesingArts Utah 2022
The State of Utah and the Utah Museum of Contemporary Art (UMOCA) invite you to the annual DesignArts exhibition of organized by Utah Arts & Museums (UA&M).
This years DesignArts exhibition is juried by the Executive Director of the American Institute of Architects New York Chapter, Benjamin Prosky and includes 25 designs from 18 designers from across the state.
Design is the creative beginning of any human-initiated arrangement of materials. We are dedicated to the promotion of excellence in the diverse fields of design in Utah. We strive to help community members see, experience, utilize and value the art of design that surrounds us," said Nancy Rivera, Visual Arts Program Coordinator at UA&M.
ajc's is honored to be among those selected in the professional design category to provide an exhibit for the DesignArts Utah 2022 presentation at UMOCA. ajc's exhibit, "Plug and Play" offers a unique perspective on an affordable prototype for micro-housing. Our design team included John McLaughlin, Design Team Manager; Connor Stephens, Design Support and Steve Simmons, AIA, ajc architects Director of Design.