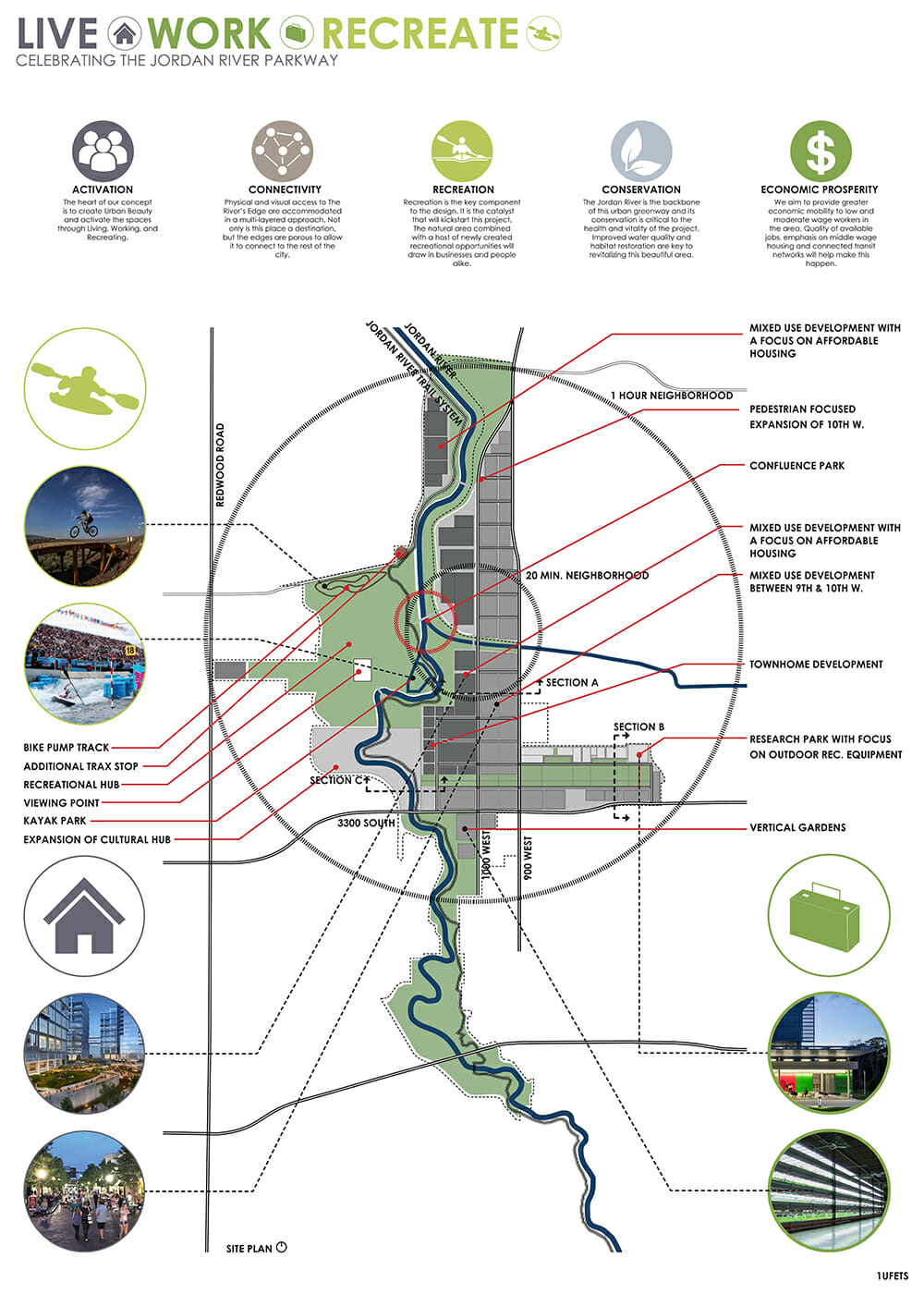 LIVE + WORK + RECREATE
In the Spring of 2019 Salt Lake County, in conjunction with local governments and community groups, sponsored a juried IDEAS competition to re-envision a mid-valley section of the Jordan River Parkway. Our team, led by Steven Gilbert (ArcSitio Design), Steve Simmons, Connor Stephens, Alan Taylor (ajc architects) and Bob Springmeyer (Bonneville Research) was honored with the ACTIVATION INNOVATION Award based on the theme of LIVE + WORK + RECREATE.
The Purpose of the Competition
Re-envision a mid-valley section of the Jordan River Parkway, an urban greenway running through the heart of Salt Lake County, Utah. Local governments and community groups are coming together to encourage big ideas for how more residents and visitors can access and enjoy the Jordan River and surrounding areas.
The Challenge
This juried competition invited US-based teams (architects, landscape architects, designers, urban planners, engineers, planning/design students, contractors, etc.) to submit innovative and creative ideas that balance conservation with development, link residents and visitors to an ecologically diverse nature corridor, create year-round recreational opportunities, and foster vibrant social gathering places.
Tackle the range of challenges independently or form multidisciplinary teams. Create innovative ideas that demonstrate a team's unique talents and the best ideas for the competition.
These challenges form the foundation of the criteria that were used by the jurors to choose the competition award winners; People's Choice Award finalists, Jury Award and Innovation Awards.